Diets
HOME-MADE SINGAPORE NOODLES
**The pictures below are only for references and may not reflect how it looks like in real life.

Ingredients:
1 large daikon radish and 3 carrots
2 tsp vegetable oil
thumb-sized piece ginger, chopped
1 red chilli, ½ finely chopped, ½ thinly sliced into rings
2 garlic cloves, crushed
6 spring onions, finely sliced
1½ tbsp curry powder
2 tbsp soy sauce
1 tbsp teriyaki sauce
150g raw prawns, roughly chopped
100g cooked ham, shredded
1 handfuls of beansprouts

Directions:
1. Use a spiralizer to create vegetable noodles – use the large noodle attachment. Set aside.
2. Heat the oil in a wok over a high heat. When hot, add the ginger, chopped chilli, garlic and spring onions and stir-fry for 30 secs - 1 min until softened.
3. Add the curry powder, soy sauce, teriyaki, prawns and ham and cook for another 2 mins, until the prawns turn pink.
4. Add the vegetable noodles and beansprouts, stir around for 1 min more until the noodles have softened a little – don't cook for too long or they will turn watery.
5. Serve scattered with sliced chilli on the side.
6. Ready to serve!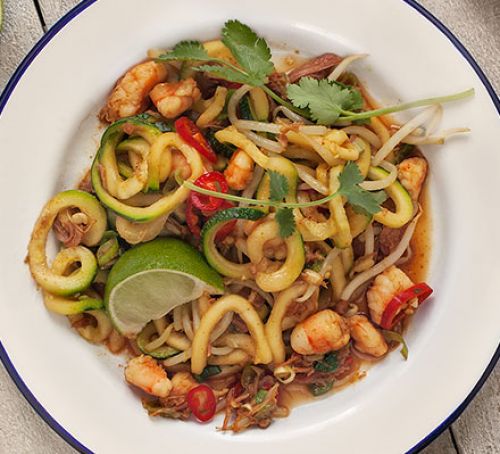 Last updated: 1 June 2019