Diets
DELICIOUS FISH STEW
**The pictures below are only for references and may not reflect how it looks like in real life.

Ingredients:
4 slices stale bread, diced
2 tbsp olive oil
1 onion, finely chopped
2 garlic cloves, crushed
1 tsp dried chilli flakes
400g can chopped tomatoes
4 frozen white fish fillets
400g can butter beans, drained
1 lemon, cut into wedges

Directions:
1. Heat oven to 200C/180C fan/gas 6. Put the bread on a large baking sheet, drizzle over 1 tbsp of olive oil and bake for 10 mins until golden, set aside.
2. Heat the rest of the oil in a large flameproof dish over a medium heat.
3. Add the onion and cook until softened for about 10 mins, then add the garlic and chilli flakes and stir for 1 min. Add in the tomatoes and fish fillets.
4. Cover and simmer for 10 mins until the fish is nearly cooked, then uncover.
5. Add in the butter beans, season well, then cook until everything is hot.
6. Serve scattered with the parsley and lemon.
7. Ready to serve!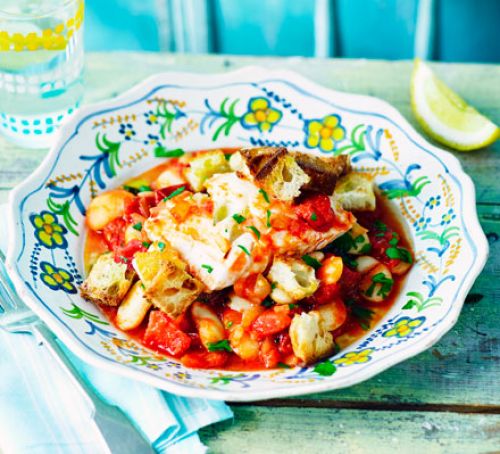 Last updated: 1 June 2019